Somnify helps people learn about their behaviors around various sleep problems, by helping users track and build habits over time -
like a life companion.

Year
2020



Type
UX Research
Mobile Prototype





Project Context
Microsoft Design Expo
US Healthcare System
Team

Wendy WangResearcher & Designer

Marcel Wang
Researcher


Young-min ChoiResearcher & Designer

Sohaila Mosbeh
Researcher


Hyunseo Lee
UI & Visual Designer


Wasif Hyder
Technical Adviser
---
Why


Sleeping problem is not a temporal
but a chronic health condition.
Sleep problem was never an issue for me, until I experienced one. I couldn't figure out why or how it started, and my only assumption for the cause was stress. After meeting up with my doctor for the first time, she started tracking on my appetite, mood, exercise, and sleep hours. While it helped a little bit, it didn't really solved the problem. After talking to a few friends and searching on the forum, I realized there was a big community around various sleeping issues with years of suffering, and they were experts of their body, learning from years of insomnia.
Then I thought, maybe it's not just about sleep, but about
all the things
that are happening in life that contributed to my sleep problem.
---
US Healthcare System & Sleeping Problems

Sleep disorder is a blindspot to US healthcare system.
Despite its prevalence and widespread effect to health, people don't treat sleep problems in the same way as a chronic health condition, and often sleep clinics are not affordable for a huge number of population who are suffering from various kinds of sleep problems.
Problem Areas
a. Accessibility

b. Long-term Process
c. Lack of awareness in CBT based treatment
(Cognitive Behavioral Therapy)


- 30% of general population experience some sleep disruptions.
- Long-term consequences with serious public health implications.
---
Survey & Insights

We wanted to test our assumptions that there is a huge number of people who are experiencing chronic sleep disorders who don't necessarily go visit doctors, but willing to learn and change their behaviors. So we conducted both qualitative and quantitative survey to see if our hypotheses were vaild for further development. And here are insights from our survey results.

a. High percentage of respondents experience insomnia chronically.

b. People want to learn about behaviors that affect their sleep.

c. Almost all respondents believe their insomnia has to do with anxiety.

d. Most people don't track their sleep.
---
Competitor Study

Existing Services
Amongst all the services we have studied, Sleepio, a sleep clinic product in UK was the only servie that provided more personalized and professional solutions.
Sleepio user flow

After researching about their product, we analyzed and categorized what could be improved so that it could be implemented within the US healthcare system in a accessible way.
What we have found about Sleepio, and how it can be improved
Minimize user input

Because existing services were highly dependent on user input, such as 'Sleep Diary', it asks for users' time and effort a lot. It is not really ideal for many people who just want to track their sleep as quick as possible.
Accessibility in the US

Not very accessible for people outside the UK - Sleepio is prescribed by NHS doctors. In the US, patients have to be covered by health insurance paid by their employer.
Personalization

Be more relevant to the user's personal needs, including both questions/prompts for tracking and suggestions. For example, user who don't drink shouldn't get suggestions on alcohol.
---
Persona
---
Problem Statement

People who have sleeping problems are already stressed about improving their sleep performance. Our goal is not to provide short-term fix, but a long-term solution by tackling behavioral patterns of which users might not even be aware themselves.

---
What does Somnify do?

---
Wireframe
---
Ideation
a. Value
Think about how you motivate people to fill out forms.

b. Connecting people
Think about how you can connect people and help them learn together.
c. Mood
Think about the journey that led people to download this app, perhaps a particularly bad week of sleeping?
d. Customization
Find the right moment that prompt users to input data / take part in exercises.
d. Data
Think about an easier way to source data from.
---
What have changed?

->
Learning experience
->
Community
->
Tone

of the product
->
Reminders
&
Customization
->
Data integration
with
existing
wearables
---
Features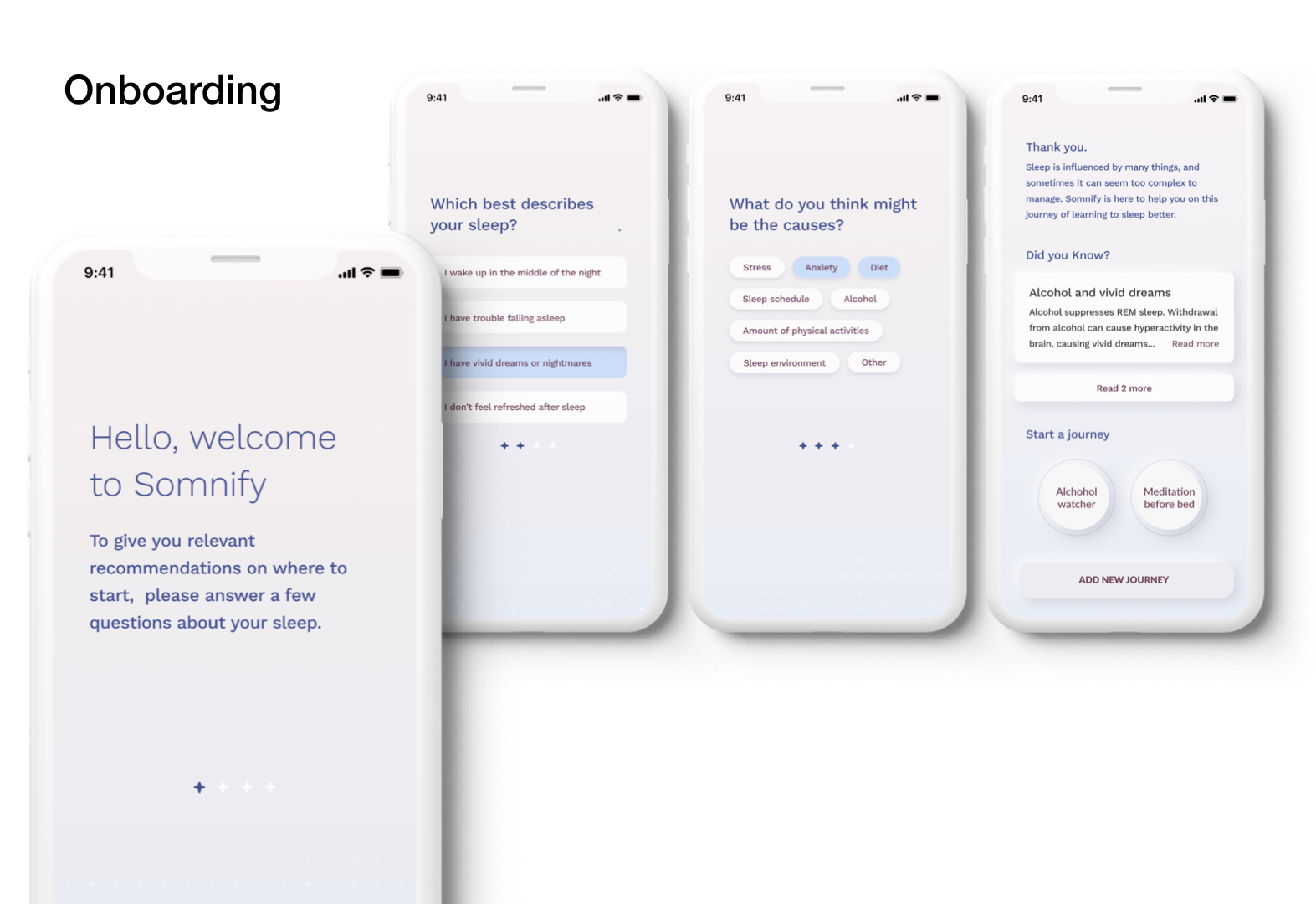 The user will be asked a short questionnaire regarding their sleep patterns and their assumptions of potential causes to their sleep problems.

This can help users start at a more customized entry point when starting their journey, by getting advice from Somnify.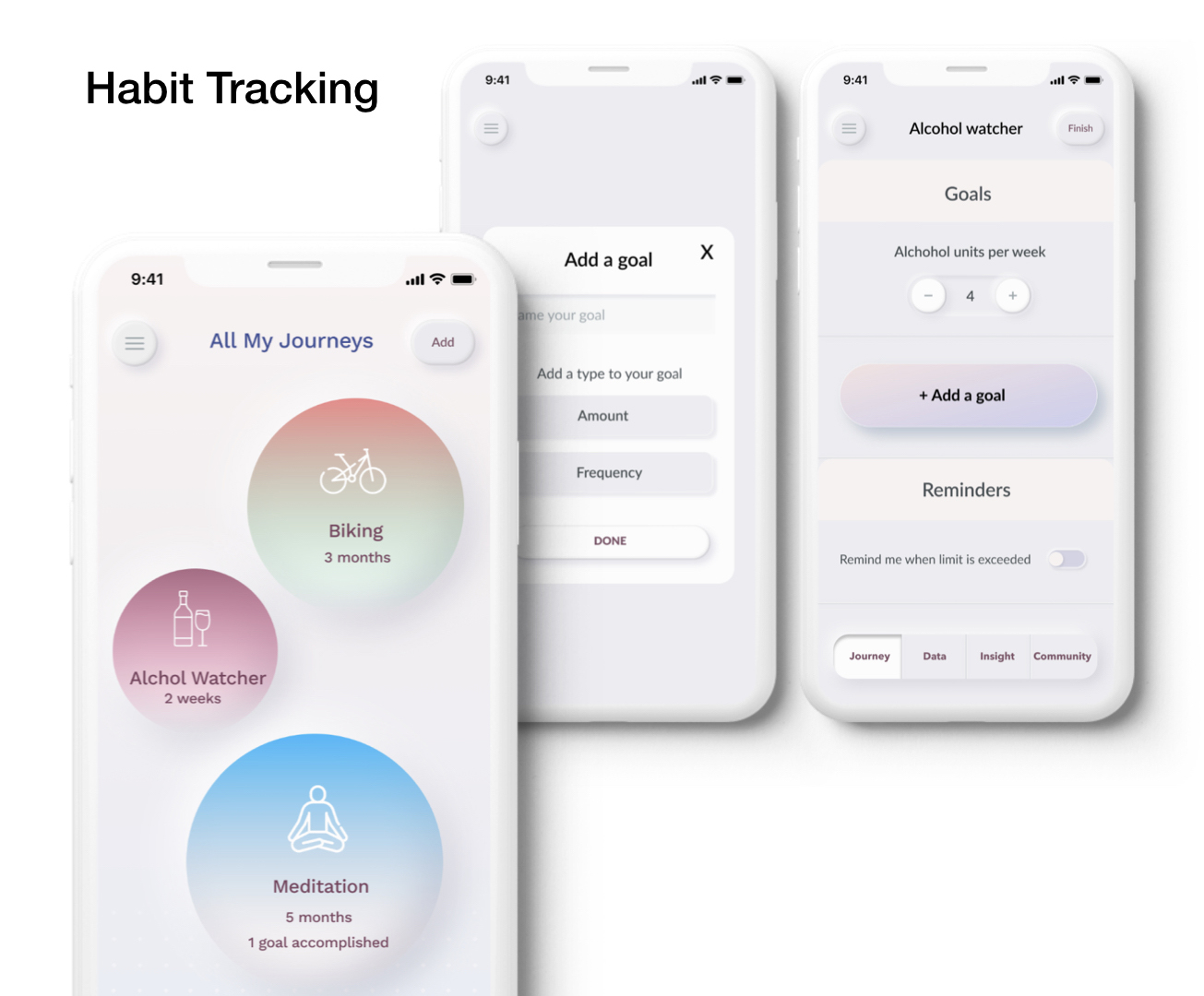 User can embark on a journey of habits that would be helpful for getting a better sleep.

Each journey has customizable parameters, such as reminders and goals, to their needs and lifestyle.









By visualizing all the habits and sleep patterns together, users can analyze and learn about their behavior, and use that information to navigate through their sleep problems over time.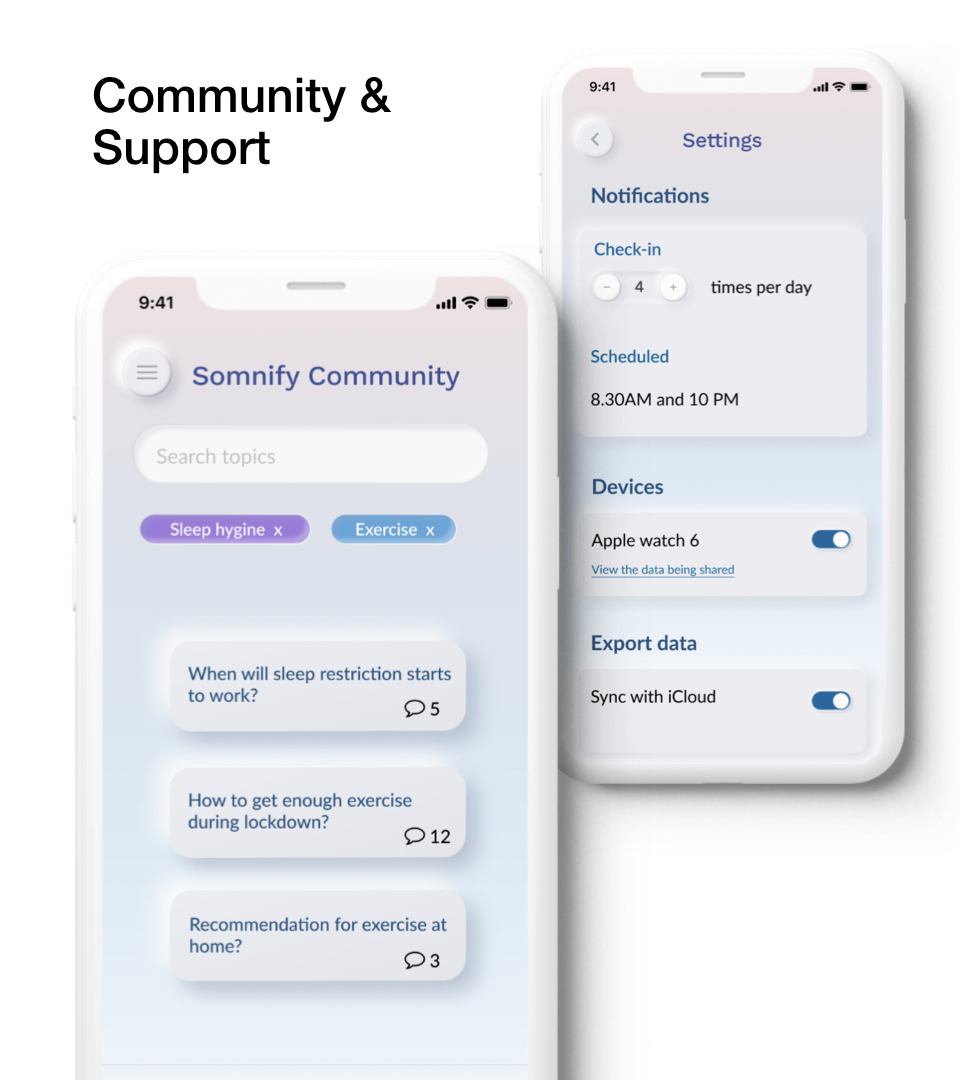 Community helps user share tips and learn about other people's journey and progress which might be helpful for them.

Furthermore, Somnify supports connecting to existing wearable products such as Apple Watch, for easier sleep tracking.
---
Next Steps

1. Data visualization : Platform to communicate with doctors for more precise diagnosis.


For this design challenge, it was a good opportunity to learn about system thinking and how design can be applied to a real world situation. For the next step, I'd like to further develop our product into a platform that patients and doctor can use to communicate more effectively based on the data.





2. User testing and deeper integration with CBT treatment

I would love to work with researchers who specialize in CBT treatment so that it can be the basis of our design decision helping the patients.